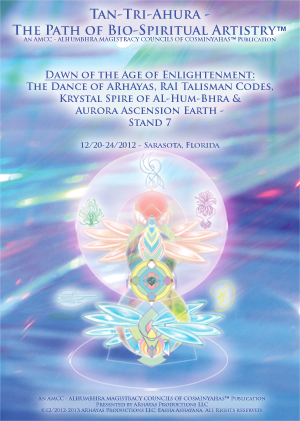 Description
December 2012 Workshop Chart Pack - 34 Pages PDF Download
Digital Download PDF Only - Link provided via email upon Check-out and Payment.
Dec 21st, 2012 - THE workshop that has been 12 years in the making.

Reclamation of the grids, Gate-opening game-changer, Adashi-3 Ascension!
Come celebrate a new dawn of the age of enlightenment; an AL-Hum-Bhra
Earth sunrise and Aurora Earth birth.

This workshop is a significant moment in our CosMYah's history, an AL-Hum-Bhra
and Krystics' Victory. The Gates have been opened, the Fail-Safe has anchored -
Aurora Earth is HERE and NOW! Our new Aurora Earth has received an Ascension
extension and become an Interdimensional Ascension station;
a core logistic for Krystics wanting to make it home.

Net-Earth has blended with its Tan-Tri-Ajha twin! The barriers between Net
and Median Earths are coming down. The Grids have been reclaimed for good.

New levels of Krystic conscious assistance have anchored, and are with us now
to assist in this new Ascension station creation. Such beings include the Five
Plasma-Sun Talisman™Gate Keepers Code Beings  of the AL-Hum-Bhra
Magistracy Councils Tan-Tri-A' jha Collective &  their corresponding
AL-Hum-Bhra Cathedral Complexes.

Also introduced is the Eye of AL-Hum-Bhra code, representing the mathematical
code of the Tan-Tri-Ajha blend field of Net-Earth andMedian Earth, together
forming Aurora Ascension Earth. It is the literal Eye/Doorway through which
Median Earth's frequencies anchor, assisting us to increasingly align with the
Median Earth Reality Fields and higher plasma frequencies as they come in to
the planet.

Learn about  "Return of the Golden-Silver One-The Golden Spark of God-Source
Love & the Silver Seed of Eternal Life", "The Silver Seed Awakening", the "Halls of
ARhAyas & Earth's Plasma-Phase-Generator Temples of the Planetary AL-Hum-Bhra
Cathedral Network.

Further topics covered in this workshop include the "Eye of ARhAyas"
Pulse-Point & the Cos-min-yahas AL-Hum-Bhrus "Span of ARhAyas" Flash-Point.
The Planetary DhA-yah-fication Point, AL-Hum-Bhra Krystal Spire, the "13th Day
of Kryst Mass & Dawn of the Age of Enlightenment."

Earth has regained its Grace as an Ascension Planet  via the AMCC-MCEO
Fail-Safe Krystal River Host. "Life After Earth" = "Life on Aurora Ascension Earth",
HERE and NOW, and for the generations of Aurora Earth that will span the next
900 years of our Planetary Krystal River Host to Adashi-3 Ascension!